FOCUS ON COMPASSIONATE CARE WHEN YOU JOIN US.
Our operating room continues to grow and create new opportunites for you.
The Children's Memorial Hermann Hospital surgery specialists are leading pediatric surgical care and providing innovative solutions for patients with congenital disease or traumatic injury while focusing on quality outcomes. Our specialized team stands ready to take on the toughest cases while serving as champions for each patient and their families. Every child deserves individualized, compassionate care. And you can help provide it.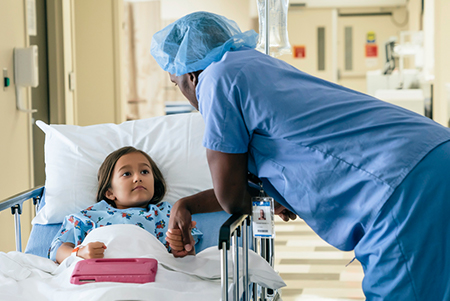 Do you have what it takes?
Positive team player
Pediatric or Adult OR experience preferred
Enjoys fast-paced and dynamic environment
Appreciates being on the forefront of pediatric surgical healthcare
Embraces family centered care
Our current opportunities include: OR RNs and Surg Techs
Why you should join the Children's
Memorial Hermann team?
Children's Memorial Hermann Hospital is one of the largest hospitals in Texas and offers a wide variety of career and professional development opportunities for nurses. Each year, more than 37,000 children are treated at Children's Memorial Hermann – this gives you the opportunity to make a significant impact in the lives of our patients and our community.
As the Children's Operating Room expands, we need a team of qualified professionals to help us advance the science and art of caring for children.
"I'm motivated by the challenge to solve complex problems for my patients and improve processes for the teams I partner with. Being part of a team that is constantly evolving processes to provide the best care possible is empowering and exciting. We work hard and we support each other to put our patients first."
– Jannette C., BSN, RN, CNOR, RNFA

Want to learn more about our team? Find out below.
Join our body of experts – Apply Now!
A career at Children's Memorial Hermann Hospital means you become a part of our high-performing culture that drives innovative patient care every day. We invite you to find a career with endless possibilities today. Explore our career opportunities today!